Watch the video below to find out if you already know the wood clamping tips & tricks that are taught:
Wood Clamping and Gluing
Wood clamping and gluing is the process used for joining stock together with the force and adhesion necessary to assure strong wood joints.
This is accomplished by using clamps and wood glue. Surprisingly, when wood is glued together, it forms a stronger-than-wood bond. That is to say, the wood will break before the glued joint will break.
This fact alone makes gluing a valid option to consider when adhering wood.
Other methods may be employed to aid in the process, such as biscuits, dowels, nails, and screws, but a properly glued butt joint is not to be underestimated.
The Gluing Process
Before you begin gluing, make certain you have all the necessary tools and equipment on the table with you.
First, decide what type of clamp you will use. A clamp is a device used for pressing two pieces of stock together. There are many different types of clamps, and all vary in the amount of pressure they may exert on the stock. Below is a list of the most popular wood clamps in use today.
Go to the Table of Contents – Wood Clamping
Types of clamps
Bar clamp
Wood clamp
or Hand screw clamp
C-clamp
Spring clamp
Screw clamp
Screw clamp
Toggle clamp
Pipe clamp
One-handed bar clamp
Miter clamp
Strap or band
The type of clamp you choose is determined by the size and amount of pressure you need. Pipe clamps, for instance, are long and have the greatest cranking power. Adversely, spring clamps are small and have less compression strength.
Once you have chosen the clamp(s) most suitable for your project, acquire the clamping tools you will need. A clamping tool is any device useful for the gluing process. Below are a few.
Wood Clamping Tools
Cauls: Rigid wooden planks that are clamped to panel glue-ups, one on top and another directly below it, to keep the individual boards aligned to each other (right).
Cellophane Tape: Attached to cauls to prevent from sticking to excess project glue
Wax paper: Prevents projects from bonding to the table
Riser blocks: Lifts project off the table for ease of clamping
Squares: Allow you to check if stock is square (90°)
Wet paper towel: Excess glue is the enemy of stain! Remove it before it sets. When glue sets, it seals the wood and prevents the stain from soaking into the fibers. The result is one big ugly yellow mark. To avoid excess glue, don't apply more glue than what the joint can allow. If the glue does squeeze out onto your project, wipe it immediately with the wet paper towel.
Go to the Table of Contents – Wood Clamping
11 More Tricky Clamping Solutions
Here's another fantastic video that will show you 11 more must-know clamping hacks:
Teds Woodworking – What Exactly Is This Package?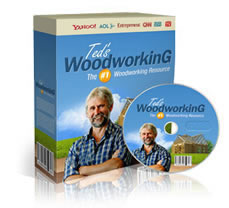 Created by Ted McGrath, a professional woodworker, educator, and AWI member, Teds Woodworking is a massive collection of more than 16,000 woodworking projects and blueprints.
You can easily follow to build your own home furniture, garden chairs, dog houses, bird feeders, sheds, and many more.
Ted McGrath spent the last 2 years putting together his woodworking package and according to him, this package is the most comprehensive online today.
Click here to learn more about this fantastic package!
Easy Woodworking Projects: Buttons & Picture Frames (The Easiest 2!)